Our staple kale salad has feta cheese, dried cranberries, sliced almonds and a tangy lemon vinaigrette. It's simple, but so tasty, and the recipe we turn to in a pinch.
Kale is a very polarizing ingredient: you either love it, or you hate it. We are clearly on team Love It! From kale barley salad to kale caesar salad, I love how versatile and nutrient-packed kale is.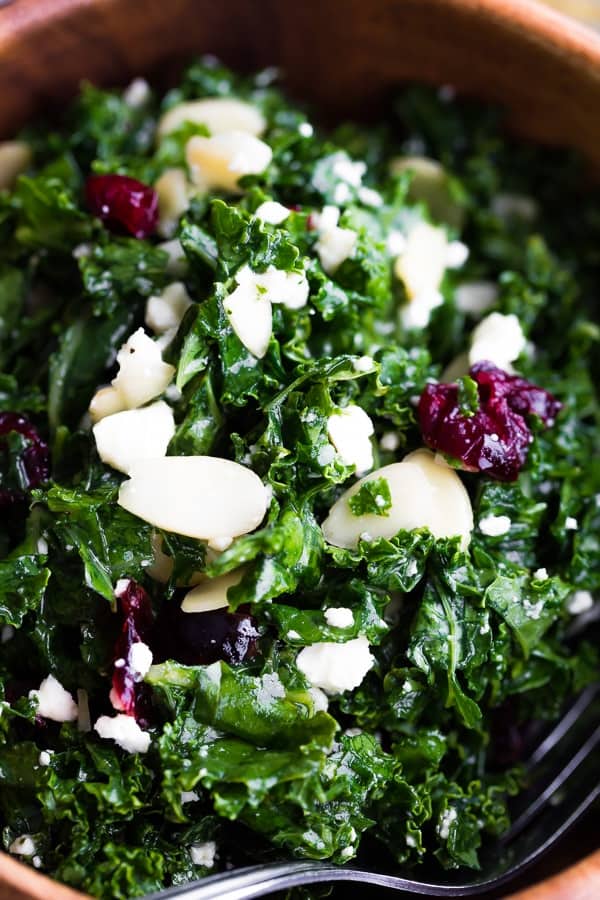 This staple kale salad is a great 'all purpose' salad that really goes with everything. It's super simple to prep, but you are rewarded with a delicious blend of flavors and textures.
Reasons you'll love this kale salad
has only 4 ingredients plus the dressing
comes together in 15 minutes
can be prepped ahead and assembled at the last minute for simple dinners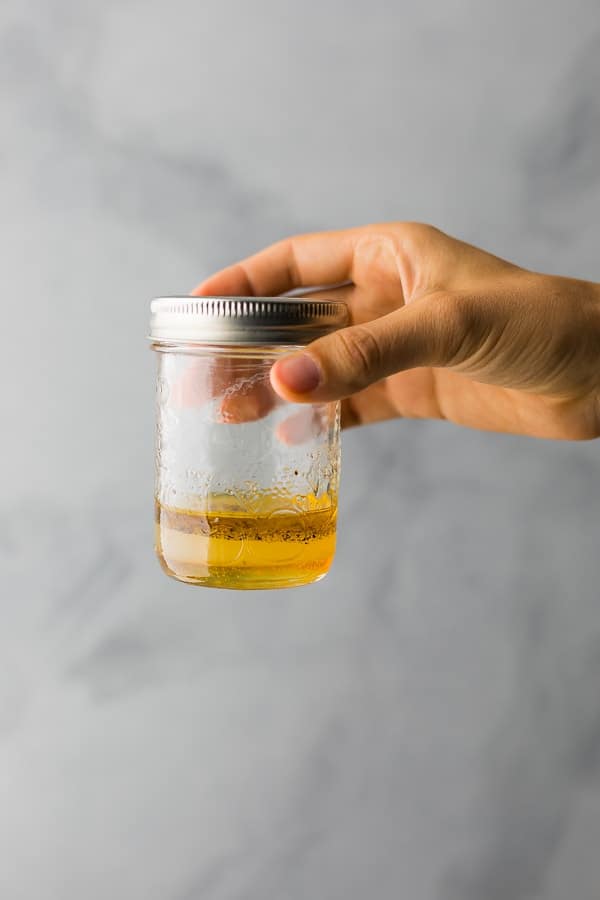 Prepping the kale
If you've had bitter, chewy kale before, it's likely that it wasn't prepared properly. Kale should have a mild and slightly sweet flavor, and should be soft, not chewy. Here are the important steps to take to avoid bad kale:
Remove it from the stem
This kale salad recipe works with pretty much any variety of kale including common curly kale, lacinato kale, and baby kale. Since kale has a tough, woody stem, it's important to remove the leaves from the stem. I do this using a paring knife, carefully cutting the leaves off working down from the thickest part of the stem. You can also simply tear it off with your hands.
Next, tear the kale up into bite sized pieces.
Wash & dry
To wash the kale, I recommend filling a large bowl with cold water. I actually do this in my salad spinner, placing the basket into the outer bowl of the salad spinner. Press the kale down into the water, moving it around to knock any dirt or debris from the kale.
Drain the kale well; if you use the salad spinner, it's as simple as removing the basket from the outer bowl. I do recommend spinning the kale dry in a salad spinner. Having wet kale leaves makes it more difficult for the vinaigrette to stick to and flavor the leaves.
Alternatively, you can arrange the kale leaves on a clean kitchen towel, then roll it up tightly to help absorb moisture from the leaves.
Massage the kale
Do not skip this part! Massaging the kale for 2-3 minutes before adding to the salad is important for two reasons:
1) it helps remove the tough texture that raw kale can tend to have
2) it helps remove the natural bitterness that kale can hold
To massage the kale, take clean, washed kale, and massage in your hands for 2-3 minutes, until kale becomes soft and bright green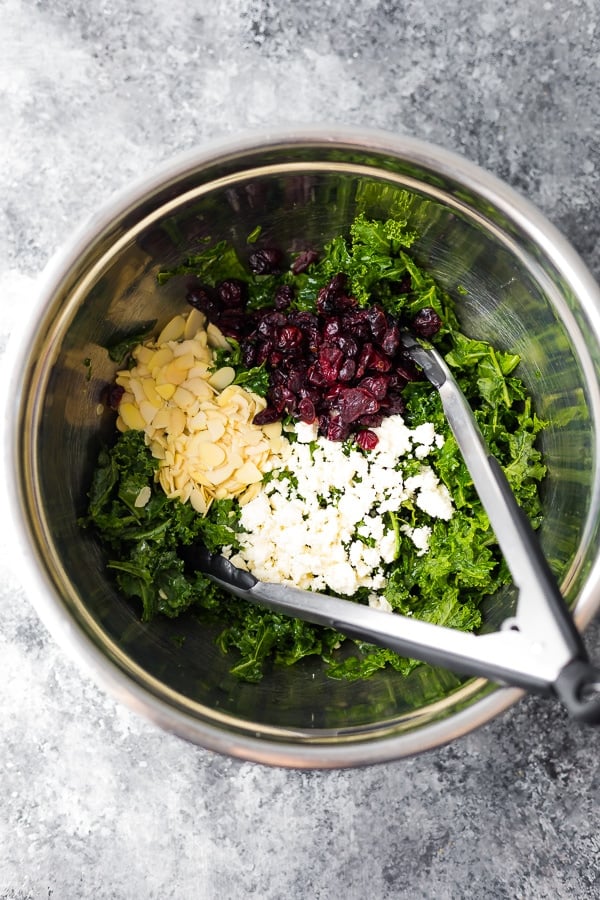 Salad goodies
Kale is such a mellow flavor on its own, it really benefits from the addition of extra flavor add-ins. For this kale salad, we use a blend of textures and flavors:
dried cranberries– gives a sweet and slightly tart flavor; swap for dried blueberries or cherries, or use fresh berries
sliced almonds– gives a nutty flavor and crunch to the salad; sunflower seeds or pecans are great alternatives
feta cheese– is exactly essential to give a salty flavor; do not skip
vinaigrette– we've adapted my favorite all purpose white wine vinaigrette with a touch of lemon juice; balsamic vinaigrette is also particularly good in this salad
Other great add-ins: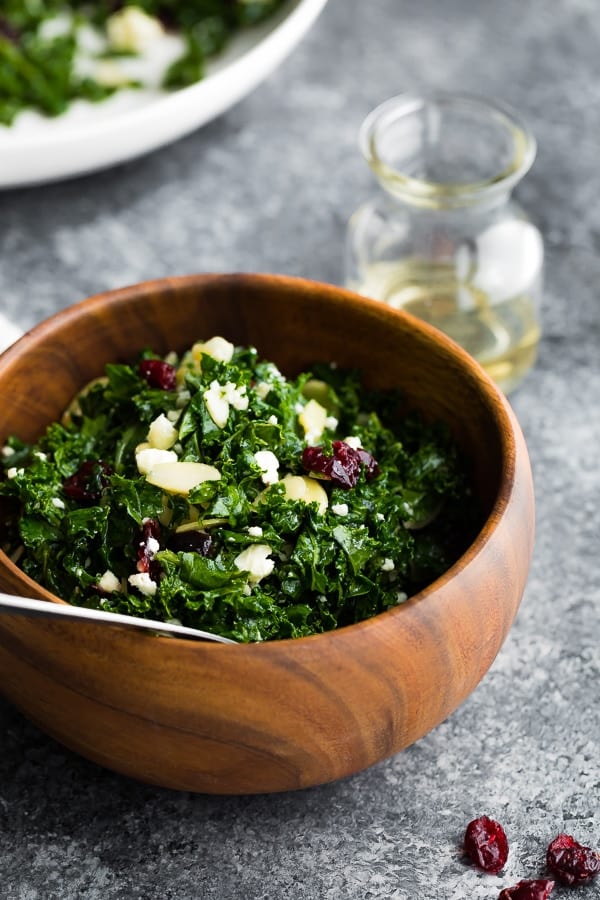 Prep ahead + storage
This salad is top served immediately after dressing; after dressing it's *ok* for about 24 hours. With that being said, you can prepare the components ahead, and assemble just before serving– this saves a ton of time!
prepare you kale up to a week ahead (tear, wash, spin to dry and store in a produce saver or a large storage container; wait to massage it)
prepare the dressing 2-3 weeks ahead and store in the fridge
crumble feta cheese up to 7 days ahead
Serve it with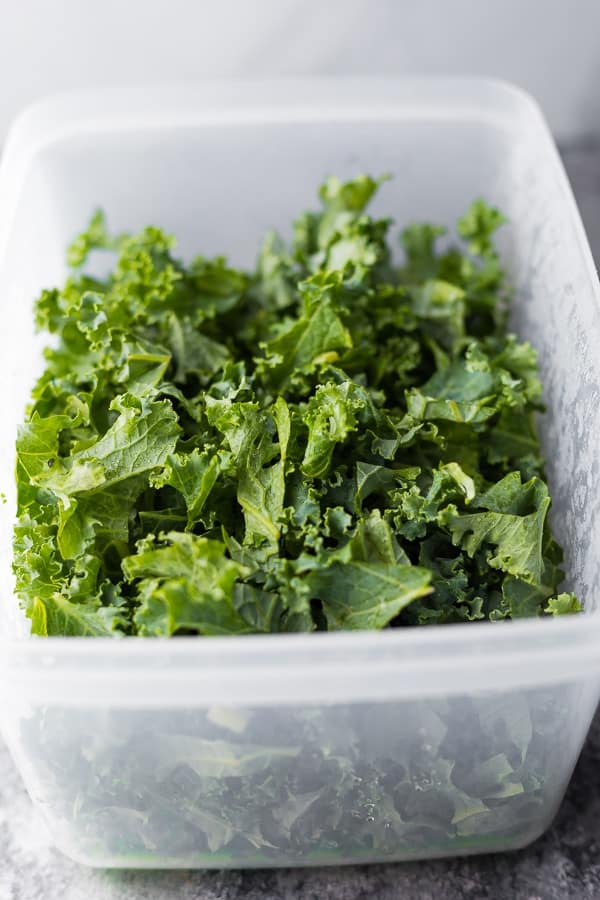 More great salads
Our Staple Kale Salad (with cranberries + feta!)
Calories: 248kcal
Author: Denise Bustard
Servings: 4
Our staple kale salad has feta cheese, dried cranberries, sliced almonds and a tangy lemon vinaigrette. It's simple, but so tasty, and the recipe we turn to in a pinch.
Instructions
Tear kale into bite-sized pieces (making sure to remove the thick part of the stem). Wash, then spin dry.

In a large bowl, massage the kale with clean hands for 1-2 minutes, until soft and bright green.

Add the feta, cranberries and almonds.

Shake together vinaigrette ingredients. Add to salad and toss. Serve immediately.
Notes
Storage
This salad keeps *OK* for up to 24 hours, but gets soggy after that. You can prep components ahead and assemble just before serving to save time:
prepare you kale up to a week ahead (tear, wash, spin to dry and store in a produce saver or a large storage container)
prepare the dressing 2-3 weeks ahead and store in the fridge
crumble feta cheese up to 7 days ahead
Variations
cranberries- swap for dried cherries, fresh berries, pear slices, apple slices, peach slices
feta cheese- swap for bacon, goat cheese, smoked gouda, parmesan crisps
almonds- swap for sunflower seeds, walnuts, pecans
vinaigrette- swap for balsamic vinaigrette, balsamic reduction, raspberry basil vinaigrette
Nutrition
Serving: 1/6 of the batch | Calories: 248kcal | Carbohydrates: 26g | Protein: 8g | Fat: 14g | Saturated Fat: 3g | Cholesterol: 11mg | Sodium: 195mg | Potassium: 705mg | Fiber: 1g | Sugar: 11g | Vitamin A: 13440IU | Vitamin C: 161.3mg | Calcium: 280mg | Iron: 2.4mg