Overnight breakfast casserole with bacon and sweet potato is a healthy, hearty breakfast for a crowd! Assemble it the night before, refrigerate, then bake it up in the morning. Gluten-free and lower in carbs.
I don't cognize about you, but when it comes to holiday breakfasts, I try to obtain as much done the night before as possible. Overnight French toast casserole and egg-based breakfast casseroles like this one are my jam!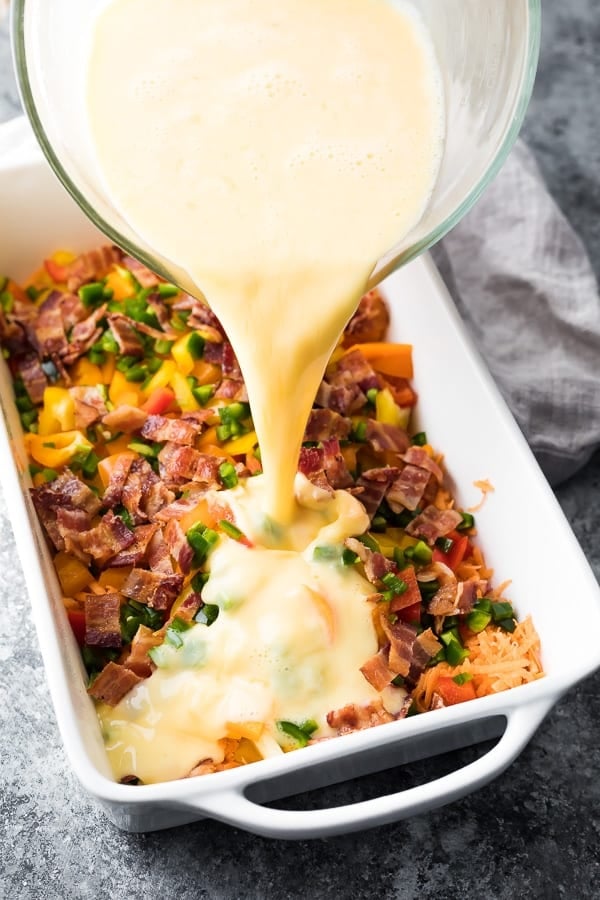 This overnight breakfast casserole has a southwestern flavor twist with sweet potatoes, bell peppers, jalapeno peppers, chili powder and cumin. It feeds a crowd and is simple to make the night before!
Reasons you'll ♡ this overnight breakfast casserole
it's loaded with a rainbow of vegetables, making it bright and pretty to look at
it can be prepped the night before and feeds a crowd
you can bake it ahead and reheat for simple breakfasts through the week
Recipe video
Watch the video below to see how simple it is to prep. It's so simple! You can find more of my recipe videos on my YouTube channel.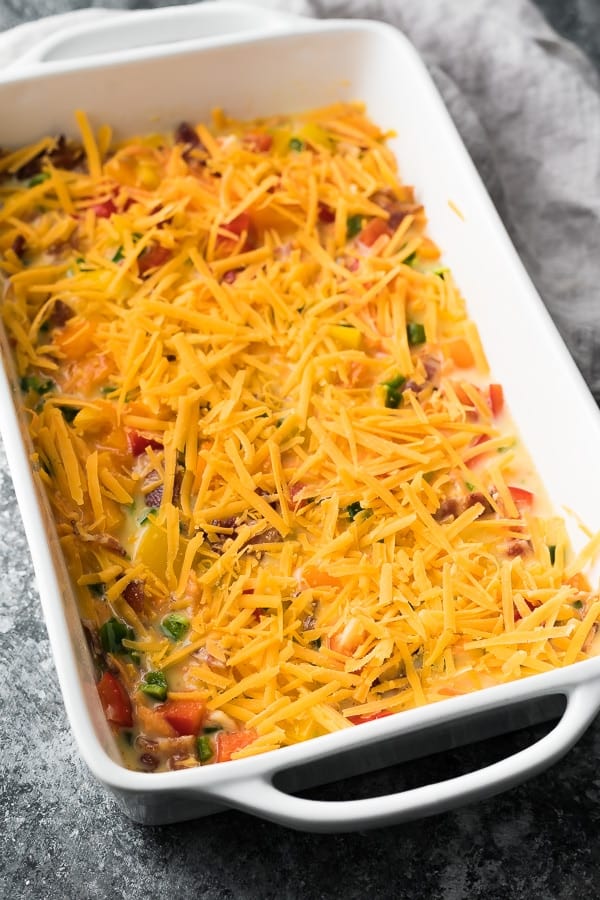 The formula
This is a really flexible recipe for an overnight breakfast casserole, and you can mix and match it to obtain your great flavor combination!
the eggs– this part is not flexible; you will need 12 large eggs
the protein– we are using chopped bacon to infuse the casserole with delicious, salty bacon flavor throughout. Swap with crumbled sausage, cubed ham, or abandon it out to make a vegetarian option
the vegetables– for this southwestern breakfast casserole, we've used bell peppers and jalapeno peppers, but feel free to add in your favorite vegetables: red onions, finely chopped broccoli, zucchini, tomatoes, spinach, asparagus, mushrooms and cauliflower rice would all be great; important– if you add mushrooms, zucchini or any other high water content vegetables, take the time to sautée them before assembling the casserole
the carbs– many breakfast casseroles use hash browns or bread cubes; I've swapped them for shredded sweet potatoes! You do not need to cook the sweet potatoes before adding them, and they add a kind flavor dimension to the casserole. Swap with an equal volume of hash browns, or 4-6 slices day ancient bread (torn into 1 inch cubes)
the seasonings- this recipe adds chili powder and ground cumin to give it a Southwestern flavor; feel free to omit them, or add in some other spices: dried oregano and basil could give it a mediterranean feel
the cheese- I've used regular ancient cheddar cheese for this recipe; pepper jack or jalapeno infused cheese could have been even better! Consider using mozzarella, feta or even goat cheese to commute things up.
How to make it the night before
Prepping this breakfast casserole the night before makes it so hands off the next morning, which leaves you free to hang out with your guests rather than being stuck in the kitchen!
prep the fillings- Cook the bacon (consider baking it in the oven!). Cool, then chop it up. Dice the bell peppers and jalapenos, and shred the sweet potatoes on a box grater. Shred the cheese.
assemble the casserole- You'll need a deep casserole dish to fit this recipe (I use this one from Crate & Barrel). Grease it with spray oil or butter, spread the sweet potatoes and bell peppers, bacon, and part of the cheese. Beat the eggs with milk, salt, chili powder and cumin, then pour evenly over the filling. Scatter remaining cheese over top.
cover and refrigerate- Use plastic wrap or a reusable silicone lid to cover the dish, and place in the fridge overnight. This overnight step is not essential, and if you'd like, you can bake it up immediately.
bake the casserole- Remove the casserole from the fridge and allow to stand at room temperature while the oven pre-heats. Remove the cover or plastic wrap and bake at 375°F for 45 minutes to 1 hour.
enjoy- serve with salsa, fresh tomatoes, or avocado!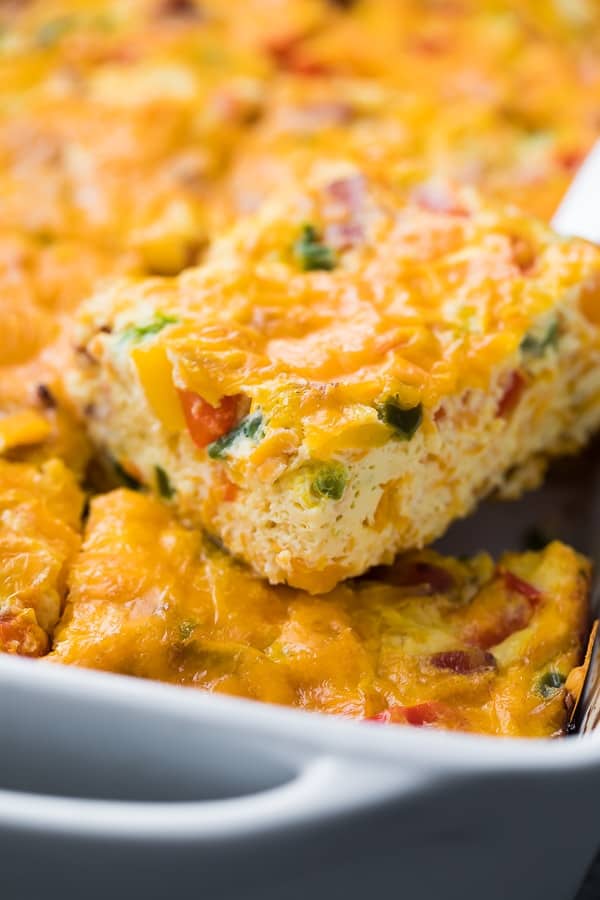 Recipe tips
Bake right away OR make it ahead
While this is called an overnight breakfast casserole, you are also welcome to bake it up right away! Simply place it in the oven (uncovered), and cook for 45 minutes- 1 hour. There is no flavor profit to making it the night before, it simply makes the morning less stressful.
How to tell when it's done
When baked through, the middle of the casserole puffs up and becomes more firm. If you are wondering if your casserole is cooked through, first give it a small shake. If it is jiggling and not set, it is likely not alert. You can also insert a knife into the middle of the casserole to see if wet egg sticks to it.
Finally, you can test the internal temperature of your casserole by using an instant read thermometer. Egg-based recipes should reach a temperature of 160°F in the middle section.
Let it sit 10 minutes
While it might be tempting to dig right into the fresh-from-the-oven casserole, it will be quite soft and prone to crumbling. Allowing your casserole to cool for 10 minutes will help things set up, making it easier to serve up.
Storage, freezing and reheating
This is such a flexible recipe that holds up in the fridge as well as the freezer. Note that the casserole will be slightly 'wetter' after storing, and reheating in the oven can help evaporate off some of the liquid.
Storing in the fridge
Cool the casserole completely, before covering or portioning out into individual portions. Store covered (or in an air tight container) for up to 4 days in the fridge.
Freezing it
Cool the casserole completely before freezing.
Whole casserole- Cool completely, then cover with plastic wrap and foil. Freeze up to 3 months.
Individual portions- After baking, cool and portion out the breakfast casserole. Wrap with plastic wrap and store in a large freezer bag or individual container.
Thawing and reheating
Thaw whole casserole or individual portions overnight in the fridge. I find that microwaving eggs from frozen can make them rubbery, but it is possible to do.
Reheat individual portions in the microwave (they will be slightly wetter, you can use a paper towel to wick away any extra moisture).
Reheat the whole casserole uncovered in the oven at 350°F for 30-40 minutes or until warmed through in the middle.

More breakfast ideas
Overnight Breakfast Casserole with Bacon and Sweet Potatoes
Calories: 348kcal
Author: Denise Bustard
Servings: 8
Overnight breakfast casserole with bacon and sweet potato is a healthy, hearty breakfast for a crowd! Assemble it the night before, refrigerate, then bake it up in the morning.
Instructions
Heat oven to 375°F. Spray a large casserole dish (9 x 13 or 8 x 13) with oil and set aside.

Cook bacon and allow to cool slightly. Chop into pieces.

Beat the eggs, then stir in the milk, salt and spices.

Add the bacon, vegetables, and one cup of cheese to the casserole dish, then pour the egg mixture over top. Stir everything up and sprinkle the remaining cheese over top.

At this point, you may cover and refrigerate overnight, or bake immediately.

Bake for 45 minutes to 1 hour (mine was alert in 55 minutes). The middle will no longer jiggle and will rise slightly when the casserole is finished. Double check that it is cooked in the middle by inserting a knife, or checking with an instant read thermometer that it has reached 160°F.

Allow casserole to sit for 10 minutes before serving.
Notes
Storage
Cool casserole completely, and either
cover the casserole dish
portion out individual slices into meal prep containers
Store in the fridge for up to 4 days, or in the freezer for up to 3 months.
Reheat
whole casserole- bake uncovered at 350°F for 30-40 min until warmed through
individual slices- heat in the microwave until steaming hot- wick extra moisture away with a paper towel if necessary
Variations
vegetables- note- vegetables with a high water content (mushrooms, zucchini, etc), should be sauteed before adding to the casserole

red onions, finely chopped broccoli, zucchini, tomatoes, spinach, asparagus, mushrooms and cauliflower rice 

bacon- swap for crumbled sausage or cubed ham
sweet potatoes- swap for an equal volume of hash browns, or 4-6 slices day ancient bread (torn into 1 inch cubes)
cheese- swap cheddar for pepper jack, mozzarella, feta or even goat cheese
you can abandon out the sweet potatoes for an even lower carb version
mushrooms, asparagus, spinach, even broccoli (chopped very small) would be great in this casserole!
swap the bacon for sausage or abandon it out all together
make it paleo by using almond milk and leaving out the cheese…you still obtain a ton of flavor from the bacon, jalapeno and sweet potato
Nutrition
Serving: 1/8 batch | Calories: 348kcal | Carbohydrates: 15g | Protein: 18g | Fat: 23g | Saturated Fat: 10g | Cholesterol: 285mg | Sodium: 558mg | Potassium: 470mg | Fiber: 2g | Sugar: 6g | Vitamin A: 9155IU | Vitamin C: 64.4mg | Calcium: 242mg | Iron: 1.9mg