This fresh, summery charred corn salad is packed with quinoa, herbs, avocado and feta cheese and tossed in a light white wine vinegar & lime juice vinaigrette. Perfect for a barbecue side dish!
We are all about the summery salads around here! Our faves conclude Greek chicken pasta salad as well as this crunchy Asian cucumber salad. When we want to make the Trendy of summer's fresh corn, we turn to this charred corn salad!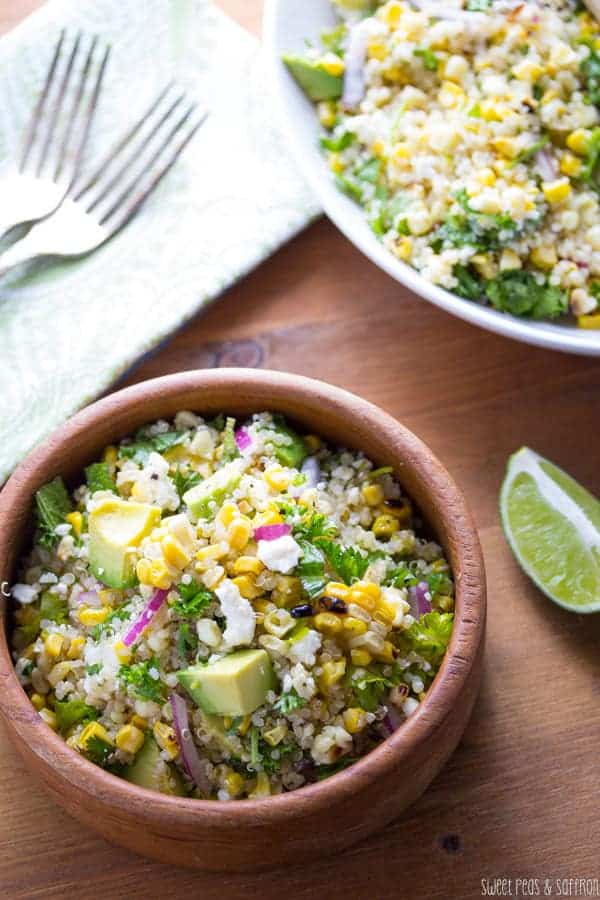 With a quinoa base, this salad has corn, avocado, fresh herbs and mint, all tossed in a tangy vinaigrette.
You can make charred corn salad a meal by topping with grilled chicken or broiled salmon, or you can serve it as a light, refreshing, side salad.
Reasons you'll ♡ charred corn salad
it's light and refreshing
with fresh sweet corn, creamy avocado, salty feta and a tangy dressing, it's delicious
you can top it with protein to make it a meal
Recipe video
Watch the video below to see how simple it is to cast this recipe together. It's so simple! You can find more of my recipe videos on my YouTube channel.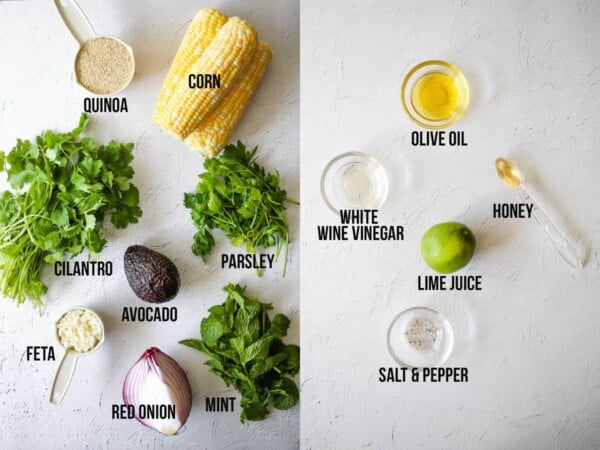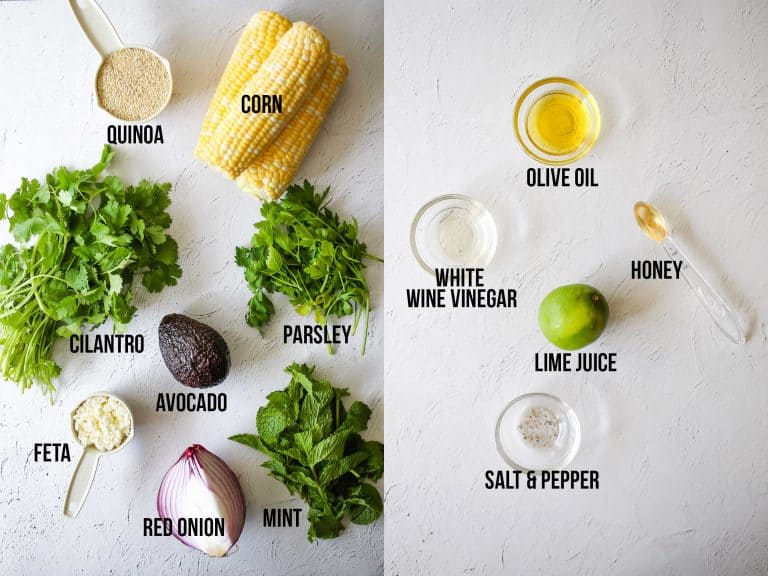 Fresh corn is top
Nothing beats fresh, sweet summer corn, and you just won't obtain the same flavor if you swap it out for canned or frozen corn.
Grilling the corn adds a charred, smoky flavor to the sweetness, which is really kind, however you may skip this step and cook the corn by boiling it or in an Instant Pot if you don't have a grill.
Grilling corn
Some people prefer to abandon the husks on the corn when grilling. If you select to cook it this way, you must first remove the silk. Pull back the husk, then remove the silk, and fold the husk back up around the corn.
In this recipe, we've grilled the corn without the husk. Brush the corn with oil, and place directly onto a grill heated to medium heat. Keep the lid down, and turn the corn each 5 minutes, for a total of 20 minutes, or until the corn is cooked through to your liking.
The vinaigrette
To balance the fresh, sweet and salty flavors of this salad, we are tossing everything up in a tangy, citrussy vinaigrette. Extra virgin olive oil helps disperse the vinaigrette, while white wine vinegar gives it a kind, tangy flavor. Honey balances the tanginess with a touch of sweetness, while lime juice adds a citrussy flavor. Salt and pepper help enhance the flavors of all the ingredients in the salad.
Consider doubling or tripling the recipe and keep leftovers in the fridge for up to 2 weeks.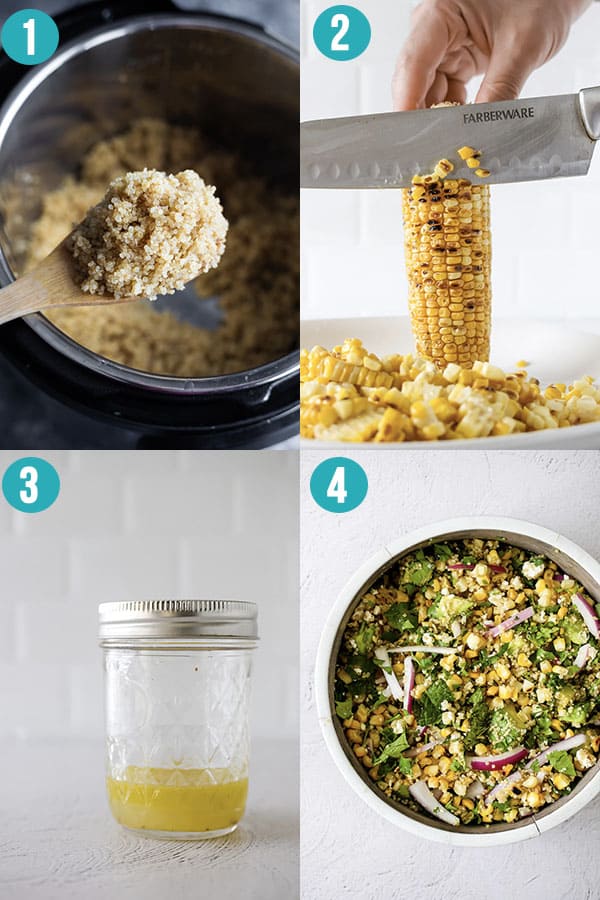 Making the salad
Start by cooking your quinoa, giving it time to cool completely to room temperature.
Cook your corn, allow it to cool slightly, then cut the kernels off the cob.
Shake up the lime vinaigrette.
Toss together all salad ingredients, and serve!
Cook the quinoa ahead
You want to make sure that your quinoa is cooled completely before assembling this charred corn salad. You can cook quinoa in the Instant Pot, on the stove top, or in a rice cooker. Cooked quinoa may be stored in the fridge for up to 4 days.
Assemble just before serving
Due to the fresh herbs in this salad (mint, cilantro and parsley), as well as the avocado, this salad is top assembled just before serving.
If you want to assemble the corn, quinoa, red onion and feta cheese with the vinaigrette ahead of time, you can definitely do this, then stir in the fresh herbs and avocado before serving.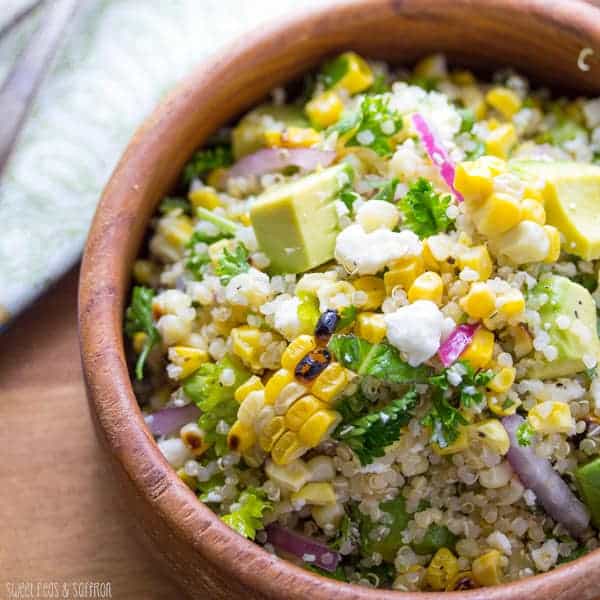 Serve it with
Charred Corn Salad with Feta, Mint and Quinoa
Calories: 324kcal
Servings: 4
This fresh, summery charred corn salad is packed with quinoa, herbs, avocado and feta cheese and tossed in a light white wine vinegar & lime juice vinaigrette. Perfect for a barbecue side dish!
Instructions
Cook quinoa according to package directions. Set aside to cool.

Brush corn with oil. Grill over medium heat, for 20 minutes (or until corn is cooked to your liking), turning each 5 minutes. Set aside to cool. When cooled, cut corn kernels off.

Assemble quinoa, corn and remaining salad ingredients in a medium bowl.

Shake together dressing ingredients and toss with salad.
Notes
Storage
This salad is top served fresh.
You may abandon off the avocado and fresh herbs and store in an air tight container for up to 4 days.
Nutrition
Serving: 1/4 batch | Calories: 324kcal | Carbohydrates: 33g | Protein: 8g | Fat: 19g | Saturated Fat: 4g | Cholesterol: 11mg | Sodium: 158mg | Potassium: 592mg | Fiber: 6g | Sugar: 6g | Vitamin A: 755IU | Vitamin C: 16.7mg | Calcium: 90mg | Iron: 2.1mg